As Pantone has announced Emerald green color as the color of the year, you can see many hues of green this year. And many of your favorite brands will be introducing their emerald green shades. From mint to emerald green nail polishes and emerald to dark green, every hue of green is in fashion this year.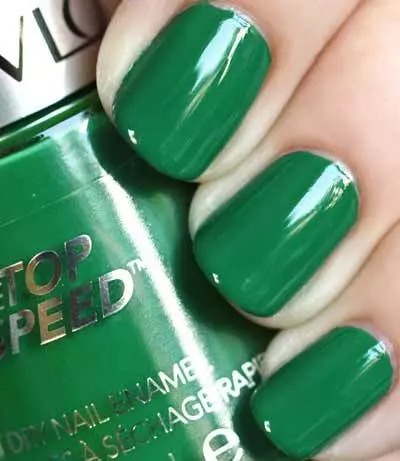 Dark and vampy shades aren't too far behind! They are going to be in fashion throughout the year, not just during the winters. Some of the colors which fall in this category are oxblood, navy blue, dark grey and eggplant shades.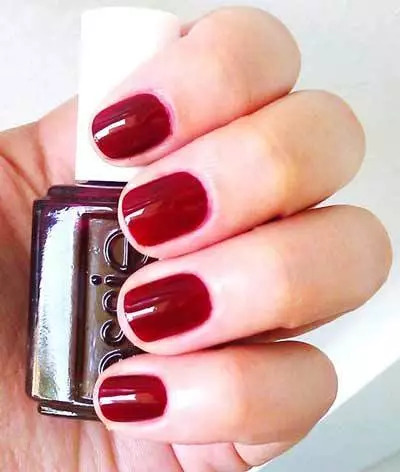 Pale shades are also in fashion this year. This is for the girls who love neat and subtle look. Just paint your nails in milky white shade or cotton candy pink shade and you are good to go.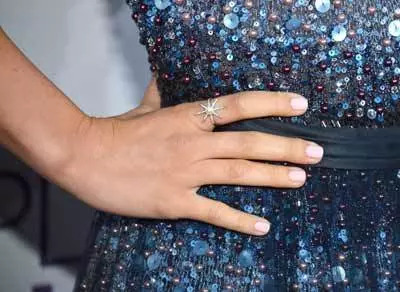 Gray is the new nude this year! This color is emerging as a new desired shade of 2013.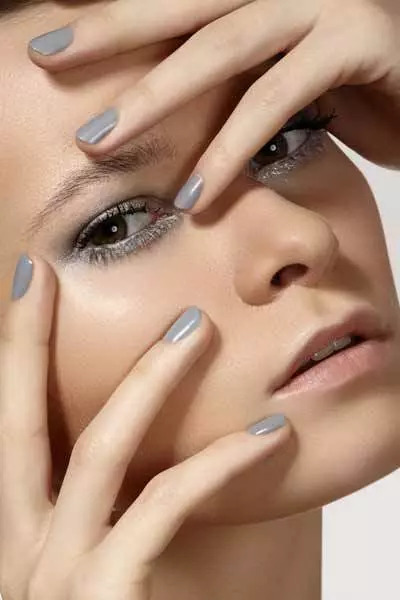 Neon shades are very much in too. Colors like black, white and red are always in fashion.
2. Textures
This year many textures will be introduced and last year's textures will be taken to new advanced looks.
OPI has released its liquid sand nail polish this January. So gritty matte sandy texture, velvet nails and leather nails are in fashion. Illamasqua has introduced rubber nail enamel which is more advanced version of matte nail polish.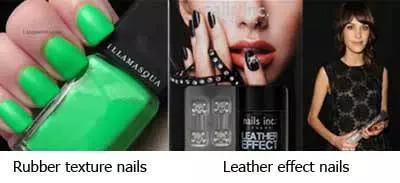 Caviar nail art will be in but with some twist like seen on spring/summer fashion runway.
3. Finish
Metallic finish is in this year and it is not restricted to only gold, silver or bronze colors but you can wear metallic nails in any color from bright red metallic nails to purple metallic nails.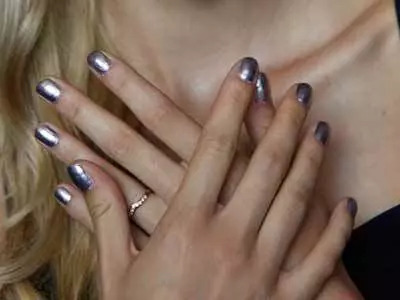 You can also add some flashes of metallic nail color to your manicure like shown in the picture below: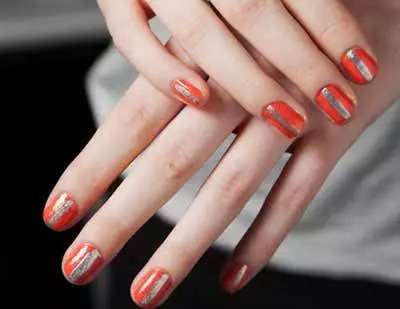 Glitter finish is in but with a twist you can dust off some of the glitter on your tips or add a glitter nail accent to your manicure.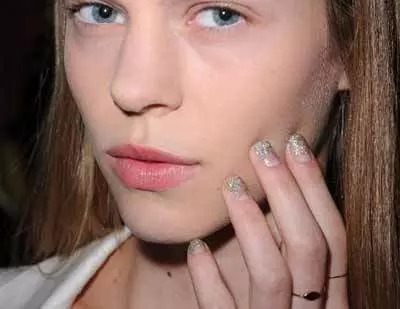 Real gold infused top coats are also very much in but they are very expensive but get the look you can use big chunky gold glitter top coat.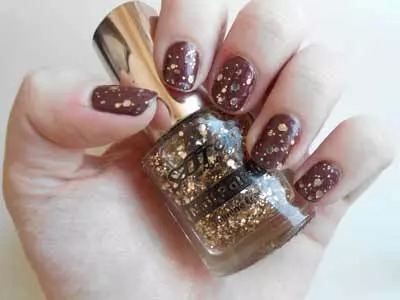 4. Nail arts
Simple, chic and non-complicated nail designs are going to be in this season. The most prominent and basic designs which are in this year are:
a) Two tone manicure:
Use of two colors in one nail art. You can also add shadow effect to your nails by painting them half in one color and other half in grey color.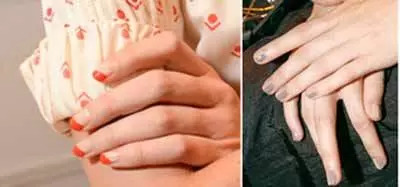 b) Sideways French manicures:
This look can be achieved by painting your nails in one color and adding thick white line on either left or right side of your nail.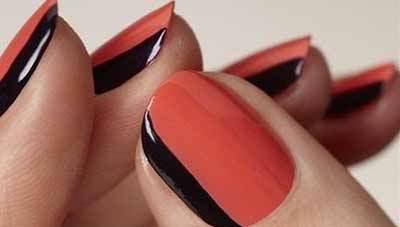 c)Two tones French manicures:
Instead of using boring colors of a simple French manicure …you may try using contrasting colors. Like painting your nail in one color and adding contrasting shade of tip instead of white. Also as neon shades are very much in this you can add neon tips to your manicure.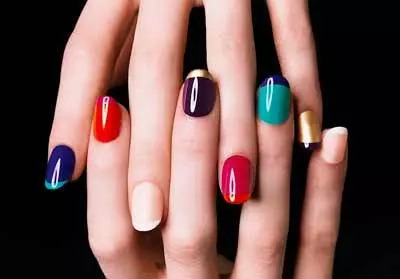 d) One of a kind French manicure:
Replace your boring white tip with animal prints, beaded, glitter or some chic design tip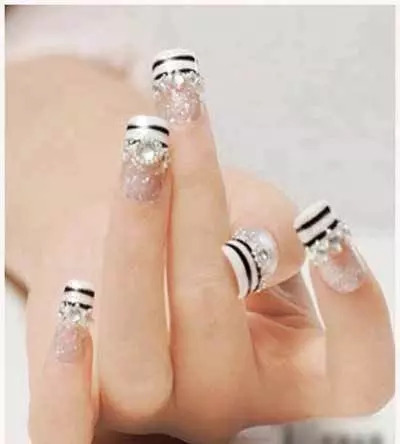 e) Adding edgy or dark elements:
Adding edgy or dark elements in your nail arts are very much in this year. Like doing Blood dripping nail arts or adding shark bits or doing skull nail arts 2013.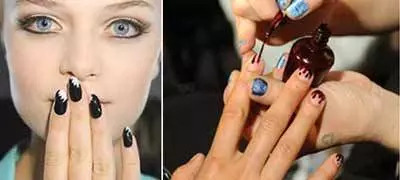 f) Adding nail jewelry:
Adding nail jewelry to your nails are very much in you can add few pieces of these to create an accent.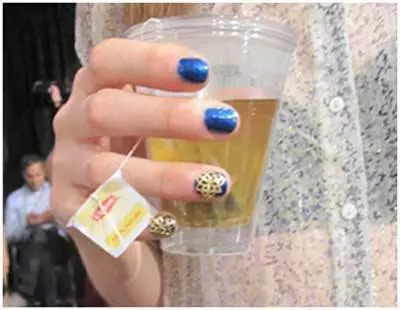 g) Lace:
Lattice work nails or lace nails are in this year you can stick lace stickers or stamp or free hand nail stickers to get the look.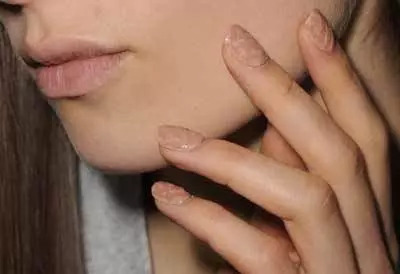 h) Gingham pattern:
Creating gingham pattern by crossing lines are very much in 2013.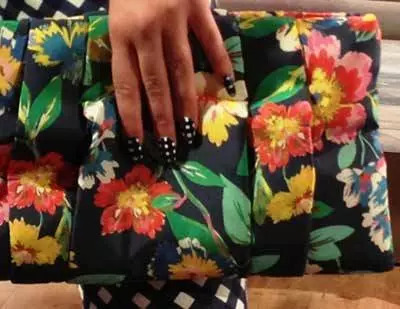 i) Vertical ombre lines:
Creating vertical ombre lines using different hues of same colors is required to get this trend right on your nails.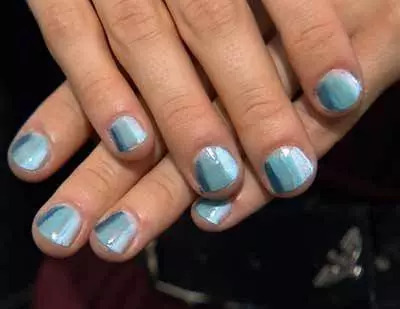 j) Not so perfect half moons:
To get this look just add contrasting color to the moon part of your nail and here you don't need to be perfect as irregularity is the key to get this look perfect.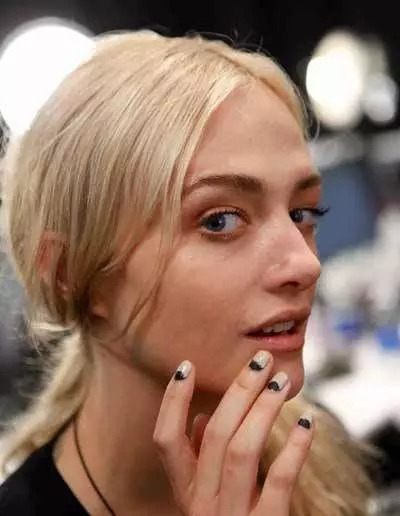 k) Adding 80's vibe or some different color block:
To get this look paint your nails in some taupe shades and add vertical thick black line middle starting from the center of your nail to the free edge.
5. Length and shape
Very long nails will go out of fashion in 2013. The length which is in fashion this year ranges from short to medium length and nail shape in fashion is square and oval shape.
6. Techniques
As easy to do nail arts are in this year with any technique which helps in getting the required result is in this year. Stamping, gel, acrylics everything is in.